Whales Island
Chronicles of Pretenders
(Cd, Indelirium Records)
hardcore, punk, indie rock, rock
_______________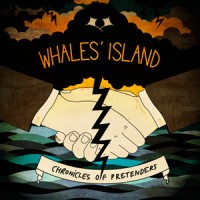 Chronicles of Pretenders, lavoro discografico generato da cinque ragazzi siciliani, che rispondono al nome di Turixxx (voce), Bomboletto (chitarra), Diego j Boy (chitarra), Sandrino (batteria) e Giorgio (basso), è la perfetta miscela esplosiva tra un pizzico di hardcore, punk e indie rock, con l'aggiunta minima ma ben amalgamata del suono melodico.
Chronicles of Pretenders è sintesi ottima di due lunghi anni di assidua collaborazione e sodalizio artistico dei Whales Island, accomunati dalla stessa identica passione per la musica, e per tutto ciò che il loro progetto musicale rappresenta.
Registrato presso il Dial Tone Studio, dopo l'uscita di un precedente album che aveva visto la luce ad Aprile 2010, presso l'Acme Studio di Sulmona (Abruzzo), e co-prodotto da quattro etichette come la Indelirium Records, la Raining Records, la Noreason Records e la World's Appreciated Kitsch Records (Grecia), Chronicles of Pretenders è un demo che pur constando di soli tre brani, rende bene ciò che i Whales Island hanno voluto, e vogliono esprimere nel corso della loro giovane carriera.
Ascoltando Chronicles of Pretenders, Opening Words, Over the Reef, e Do or Die, sono canzoni in cui l'adrenalina scorre a fiumi, pezzi veloci ed estremamente incalzanti che non concedono tregua, apprezzabili nella loro potenziale "follia" compositiva. Se vi state chiedendo chi sono i Whales Island, vi basti sapere che sono una band esordiente da tenere d'occhio… Al momento però, la prova è superata!
Gli ultimi articoli di Selene Virdo