Heartache
Empty Gardens of Sky
(Cd, Autoproduzione)
progressive, metal, rock
________________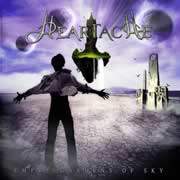 Empty Gardens of Sky, nome decisamente azzeccato sia per riportare in auge i fasti epocali di band leggendarie come Genesis, King Crimson, Pink Floyd e Yes, sia per prendere fortunati spunti creativi da band più moderne come Dream Theater, Pain Of Salvation e Symphony x, è un sorprendente full lenght composto da 7 interessanti brani, i cui testi possono appieno essere considerati, vere e proprie poesie colme di sentimento ed emozioni.
L'analisi di Empty Gardens of Sky, lavoro generato dalle notevoli capacità tecnico-artistiche di Thomas Gabriele (voce), Matteo Palladini (chitarra), Paolo Di Gironimo (basso), Giancarlo Vizzaccaro (tastiere) e Alessandro Giordano (batteria e percussioni), musicisti dediti a sonorità rock, metal e soprattutto progressive, inizia con '98, pezzo molto orecchiabile dal riff heavy particolarmente incisivo.
Continuando l'ascolto, saltano all'orecchio fine di qualunque rocker che si rispetti, anche Kill to Eat, energica song con riff metal e velocissimo passaggio di tastiere molto ben fatto, Creation, traccia magicamente evocativa di floydiana memoria, tratta dalla suite in quattro parti Apophis, e per chiudere in bellezza Opportunity, convincente e straordinario finale sonoro, prepotentemente e positivamente enfatizzato dalle incredibili corde vocali di Thomas Gabriele.
Che dire di questi Heartache? Nati nel 2008, cresciuti nel 2010, ed esplosi a completa maturazione nel 2011, per un futuro carico di promesse e meritati successi. Continuate così ragazzi!
Gli ultimi articoli di Selene Virdo