Florence and The Machine
Ceremonials
(Cd, Island Records)
alternative, indie pop, indie rock, baroque rock, art rock, soul
________________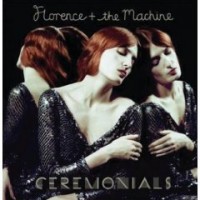 Ceremonials è l'ultimo album di Florence and The Machine con l'impressionante voce di Florence Welch, giovane e talentuosa cantante londinese. A due anni dall'uscita del primo disco, Lungs (2009), la band ritorna con questo nuovo lavoro ricco di percussioni incalzanti e quasi ipnotiche, atmosfere magiche, immaginari gotici, cori ascendenti e una voce così intensa che riesce a raggiungerti nel profondo.
Ceremonials include vari generi, dall'indie pop al rock, dall'art rock al soul perché, la musica, come sostiene la stessa Florence "è qualcosa che ti travolge e ti completa". Ed è proprio così, con il sapiente impiego di diversi strumenti musicali, Florence è riuscita a creare un disco davvero travolgente.
La Welch è accompagnata da The Machine, attualmente un gruppo di sette musicisti che comprende collaboratori di vecchia data come Rob Ackroyd (chitarra), Chris Hayden (batteria), Isabella Summers (tastiere) and Tom Monger (arpa).
Nella versione deluxe, l'album contiene ben 20 tracce, compresi i due singoli Shake It Out e What The Water Gave Me, due versioni demo e tre tracce in versione acustica. Sono tutte canzoni capaci di trasportarti in un viaggio epico con la perfetta armonia di chitarra, batteria, arpa, organo e cori gospel paragonabili a quelli di Sister Act.
Registrato in parte presso il leggendario Studio 3 di Abbey Road a Londra, sotto la regia del produttore Paul Epworth (lo stesso di Adele, Cee Lo Green, Primal Scream), Ceremonials, rispetto all'album precedente, è il risultato di una maturazione artistica con un'incredibile forza evocativa che colpisce direttamente al cuore.
Gli ultimi articoli di Sonia Mengoni