Amusement Parks on Fire
Road Eyes
(Cd, Filter)
shoegaze
_______________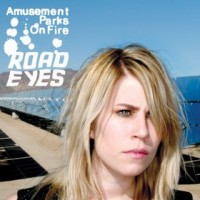 Tornano quei piromani degli Amusement Parks on Fire. Road Eyes era atteso un po' come la loro "prova del nove", superata alla grandissima.
Ne è passata di acqua sotto i ponti da quanto gli Amusement Parks on Fire era la one-man-band di Michael Feerick, anno di grazia 2004, a oggi, in cui per passaggi intermedi sono diventati un vero e proprio quintetto. Questi sei anni, oltre ad averli trasformati in una band vera e propria, hanno portato anche a due album e ben sei Ep a tiratura limitata.
Road Eyes riprende e ci fa rivivere i fasti della stagione shoegaze; al di là dei muri di chitarre effettate, al di là degli immediati paragoni tra Amusement Parks on Fire e band come Ride e Swervedriver, Feerick e soci sanno far lavorare i loro muscoli sulle corde delle chitarre e sulle scatole di effetti, ma fanno lavorare soprattutto la loro fantasia per scrivere stupende melodie, innestate in sognanti atmosfere.
Wave of the Future e Inside Out sono due piccoli capolavori del genere, ma tutto Road Eyes convince in pieno.
L'unico interrogativo rimane sulla Filter Records, l'etichetta ultra-indipendente che si ritrova a pubblicare questo gioiellino: riuscirà ad avere la forza (economica, di marketing) per far fare agli Amusement Parks on Fire il grande salto che meritano?
Gli ultimi articoli di Massimo Garofalo