The Donkeys
Born With Stripes
(Cd, Dead Oceans)
alternative rock, folk, ssichedelia
________________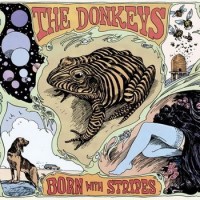 A cavallo tra i mitici anni 60 e i 70's c'era un incessante dialettica musicale tra West e Est Coast dell'America. Le coste eterne protagoniste della musica del passato (citate direttamente in due brani del disco, Weast Coast Raga e East Coast Raga) continuano a poter produrre buona musica che dialoga con la tradizione passata ma trova anche soluzioni piacevolmente nuove.
I Donkeys e la loro produzione sonora ne sono un esempio. Dopo l'esordio discografico con Living On The Other Side a tre anni di distanza tornano con i dodici brani di Born With Stripes.
Born With Stripes è un disco che suona come atemporale. È evidente la sua influenza dalla tradizione del passato americana, di gruppi innovativi come i Pavement ma anche dalle linee armoniche dei Beach Boys o da attitudini musicali come quella di David Crosby nella sua produzione solista ( ispirazioni segnalate esplicitamente dalla band stessa). Ma nello stesso tempo il disco non suona come vecchio o superato e non sembra caricatura di eroi del passato, bensì è un'umile e piacevole rilettura delle influenze in chiave sobria e solare.
È un melange di verità che convivono: la copertina psichedelica/fumettistica realizzata da Tony Millionaire, la collaborazione in studio e non solo di componenti di band come Vetiver, Papercuts, BrightblackMorning Light e di Devendra Banhart, le variabili sonorità, dalle ballate come I Like The Way You Walk,  I Don't Know Who We Are al rock'n roll di della title track Born With Stripes,  da atmosfere legate al blues come l'affascinante Bloodhound alla psichedelica più pura esplicita già dal nome di Kaleidoscope. E qui e la nei brani ( West Coast Raga) qualche suono indiano e "orientaleggiante" che riporta proprio al gusto e alla curiosità in voga in America come in Inghilterra a partire dagli anni 60 con le sperimentazioni dei Beatles.
Un disco, 45 minuti circa di musica, perfetto come colonna sonora per il coast to coast attraverso le immense autostrade strade americane che tutti abbiamo, almeno una volta sognato di fare.
Gli ultimi articoli di Sara Lilli