Sinner
One Bullet Left
(Cd, AFM Records)
hard rock, heavy metal
________________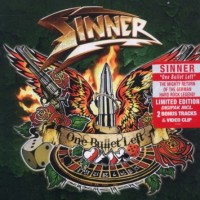 Sulla scena dal 1982 e dopo tre anni dal loro ultimo album intitolato Crash & Burn, la band hard rock tedesca dei Sinner, formata dal cantante e bassista Mat Sinner, militante attuale dei Primal Fear, dal batterista Andre Hilgers e dal fantastico trio di chitarristi Christof Leim, Alex Scholpp e Alex Beyrodt, è prepotentemente tornata in auge con un nuovo entusiasmante lavoro.
One Bullet Left, questo il nome dell'opera, tende ad essere piuttosto lineare con le primissime produzioni di questo fortissimo gruppo, in quanto ricalca con sorprendente capacità, lo stile musicale tipico degli anni '80, il rock solidamente maestoso, per intenderci, di Touch Of Sin (1985) e Comin' Out Fighting (1986).
Analizzando con attenzione le dodici tracce di One Bullet Left, è impossibile non lasciarsi trasportare dai ricordi, quelli di un periodo creativo di un genere altamente florido, dove si badava alla sostanza, nel trionfo indiscusso di lunghe e folte chiome roteanti, acuti e cristallini vocalizzi, chitarre, bassi e batterie continuamente sparati all'ennesima potenza.
Personalmente, ho gradito molto i brani The One You Left Behind e Give Take, vivaci e molto coinvolgenti, con l'aggiunta nel secondo di bei riff, il singolo rullante One Bullet Left, che dà il titolo all'album, la lenta e struggente Haunted, la cover version di Steve Stevens Atomic Playboys, Suicide Mission, canzone dal ritmo molto sostenuto e Rolling Away, buon pezzo melodico di chiusura.
Allora, che dire di questo One Bullet Left? Nonostante qualche momento forse un po' meno convincente all'interno di alcuni brani, può considerarsi decisamente promosso.
Gli ultimi articoli di Selene Virdo