Danko Jones
Rock'n'Roll Is Black And Blue
(Cd, Bad Taste Records)
hard rock, metal
_______________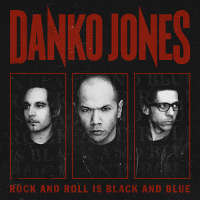 Un mix adrenalinico e sferzante per il fresco d'uscita Rock'n'Roll Is Black And Blue, del trio canadese Danko Jones: 13 tracce rapide, aggressive e orecchiabilissime che mescolano suoni hard rock e blues con energia e fluidità.
Terrified è il fischio d'inizio di questa corsa a perdifiato, sporco e caotico. Spensierati e pieni di energia i tre pezzi successivi, con un Get Up sincopato e quasi rappato e l'allegro e roccioso Legs. Più melodico anche se veloce e concitato Just A Beautiful Day, singolo estratto dall'album di cui trovate il video in questa pagina. Venature tra il punk e il grunge per I Don't Care, tempestoso e lieve in stretta alternanza You Wear Me Down. Sound pieno e ritornello catchy per Type Of Girl, con il suo piglio adolescenziale. Always Away è il brano più melodico dell'album,che stride con l'aggressivo e più cupo Conceited.
C'è un pizzico di blues in Don't Do This, un anthem potente e ben cantato e suonato (come tutto l'album nel suo complesso, del resto), mentre The Masochist è conciso, caotico e stropicciato. La chiusura è affidata al divertente I Believed In God  che infila nell'album anche del gospel con tanto di sermone, cori e organo, ma si lancia poi in un rock solido e arioso, veramente gradevole e orecchiabile.
E godibile dall'inizio alla fine è anche il disco nel suo complesso, con il suo rock genuino, curato e spensierato.
Tra febbraio e marzo i Danko Jones saranno in tour in Australia e a seguire in Nord America.
Gli ultimi articoli di Miranda Saccaro