This Broken Machine
The Inhuman Use Of Human Beings
(Cd, Autoproduzione)
alternative metal, progressive metal
_______________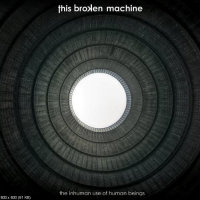 Quasi un concept album, The Inhuman Use Of Human Beings, esordio di This Broken Machine, scandaglia il tema del lavoro, dell'alienazione dell'essere umano ridotto a ingranaggio di una macchina colossale e del disagio causato dall'altra faccia della medaglia: dalla precarietà e dalla mancanza del lavoro.
Un tema caldo, anzi caldissimo, che brucia la carne viva. La sonda utilizzata qui è la metafora del conflitto uomo-macchina. Il tema potrebbe essere affrontato in maniera retorica ma non è affatto questo il caso, anzi questa lotta quasi cosmica si traduce nei suoni ora disperati e cupi, ora sperimentali, inaspettati, che sono inventati e reinventati costantemente nelle 13 tracce dell'album.
The Inhuman Use Of Human Beings è compatto e stimolante, funziona nelle sue parti più serrate e furiose (Blinded), come in quelle più lente e inconsuete (il lamento liquido di Alone, o l'epica triste di Consumed); funziona nei minutaggi ridottissimi, come nel distorto intermezzo di chitarra June Gloom e nei brani dalla durata più dilatata – la lunga conclusione Machines, una forma in divenire che attraversa a passo malinconico molti stadi differenti.
Esordio molto più che interessante, curato nei dettagli, coinvolgente, totalmente autoprodotto. Ricco di spunti il concetto di architectural metal con cui il quartetto This Broken Machine definisce se stesso. Spero di sentirne parlare e di ascoltarli dal vivo.
Gli ultimi articoli di Miranda Saccaro