Bleeding Utopia
Demons To Some Gods To Others
(Cd, Wormholedeath)
death metal, thrash metal
_______________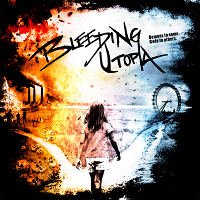 La forma attuale dei Bleeding Utopia si consolida tra il 2009 e il 2010, quando quello che fino a quel momento era stato un side-project, si è ampliato e consolidato, culminando con l'uscita di Demons To Some Gods To Others, debutto ufficiale del quintetto svedese. Un thrash metal sporcato di venature scure e appiccicose e un growl incalzante, per un album caratterizzato da aggressività e ritmi veloci e urgenti. A farlo soffrire a tratti, di contro, è una assenza di grandi variazioni che si fa sentire soprattutto ad ascolto inoltrato, appesantendo un po' l' insieme.
I dieci pezzi di Demons To Some Gods To Others hanno attacchi granitici, un impianto insieme monumentale e veloce, come esemplifica A Life's Decay, dando prova di un buon equilibrio tra forza e fluidità. Non mancano sfumature barocche e altisonanti impresse per esempio nella traccia quasi apocalittica Chaos Confirmed, o accenti inizialmente più melodici e meno aggressivi, come in Into Pieces, che mano a mano che va avanti si fa però sempre più cupo e violento. Caratteristiche amplificate ed estremizzate in It All Ends Here, molto aspro, e nel disperato Blistering Acts Of Vengeance, altri pezzi che vanno a formare quella che, a ben vedere, è la visione da incubo evocata dalle suggestioni dell' intera opera.
Nonostante un po' di fatica a causa di qualche ripetizione di troppo, come già accennato, il lavoro dei Bleeding Utopia è gradevole e con molti aspetti interessanti, e si apprezza di più dopo un paio di ascolti piuttosto che al primissimo impatto.
Sul finire dell'estate la band ha in programma un pugno di date in Scandinavia.
Gli ultimi articoli di Miranda Saccaro