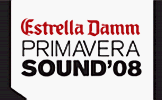 Nuove band sono state aggiunte al già più che interessante cast del Primavera Sound Festival, il punto di riferimento festivaliero per gli indie-rockers di tutta europa.
Anche quest'anno la manifestazione si svolgerà nel comodo Parc del Forum di Barcellona e precisamente dal 28 al 30 maggio.
Gli ultimi aggiunti della partita sono gli A Certain Ratio, eroi del periodo d'oro del post-punk. A fargli buona compagnia gli Oneida e la nuova sensazione spagnola, Joe Crepúsculo con i suoi Los Destructores.
Riassumendo, ecco il cast sino ad oggi confermato:
Pitchfork stage: Bowerbirds, The Bug, Crystal Antlers, Crystal Stilts, The Mae Shi, Plants & Animals, Ponytail, The Tallest Man On Earth, Vivian Girls and Wavves.
Other stages: Alela Diane, Damien Jurado, Extra Life, Gang Gang Dance, Kitty Daisy and Lewis, Michael Nyman, My Bloody Valentine, Spiritualized, The Soft Pack, Throwing Muses and The Vaselines.
Ricordiamo inoltre che il 22 febbraio è l'ultimo giorno per acquistare i biglietti a prezzo ridotto, ovvero l'abbonamento a tutto il festival a 115 euro, prezzo che dal giorno dopo salirà a 130 e che aumenterà via via che ci si avvicinerà alla data di partenza della manifestazione.
Gli ultimi articoli di pressvoice