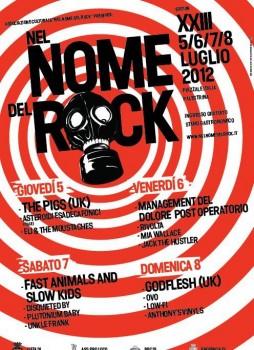 Uno dei festival più longevi d'Italia è Nel Nome del Rock, ostinatamente a ingresso gratuito da ventitrè anni a questa parte e ostinatamente a Palestrina, alle porte di Roma.
Incuranti delle difficoltà croniche dei piccoli paesi di provincia, nonostante l'ostracismo delle autorità locali, i ragazzi di Mentelocale, l'associazione che cura il festival, anche quest'anno hanno allestito un cartellone di tutto rispetto.
La line-up di quest'anno è una miscela di proposte quasi tutte italiane, fatta eccezione per gli headliners di giovedì 5 luglio e domenica 8: The Pigs (gruppo punk 77) e Godflesh (reunion tour e unica data italiana), entrambi dal Regno Unito.
Aprirà il festival la cantautrice folk italiana Eli Natali, seguita dagli asteroidi esadecafonici del poliedrico musicista F.F.F.Fiale per ascoltare a chiusura della serata i punkettoni The Pigs.
Venerdì, ad aprire, Jack the Hustler e Mia Wallace da Roma. Alle ore 22 i Rivolta e dalle ore 23 in poi, i promettentissimi Management del Dolore Post Operatorio.
Il sabato sarà aperto dagli Unkle Frank e dalle romane Plutonium Baby; seguirà la band toscana dei Disquieted by, per giungere infine agli italiani Fast animal and slow kids. La domenica, iniziamo con gli Anthony's Vinyls e proseguiremo con i Low-fi e gli Ovo. I Godflesh, infine, gruppo fondamentale per i cultori dell'industrial metal, ci devasteranno le orecchie!
Invitiamo tutti a partecipare al festival, ovviamente, e a sostenere l'organizzazione recandosi a Palestrina affamati per sfamarsi con le ghiottonerie dei tanti stand gastronomici allestiti a Piazza Italia per l'occasione, che sono in pratica l'unico mezzo di sostentamento del festival.
www.nelnomedelrock.com
Gli ultimi articoli di pressvoice