Gentlemens
Less Said, The Better
(Autoproduzione)
garage rock
______________
[youtube id="W9Logc-nvLc" width="620″ height="360″]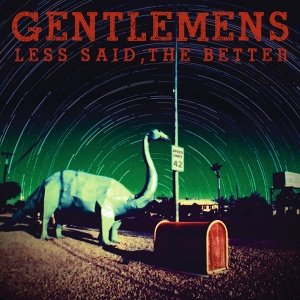 Già dal primo ascolto di questo Less Said, The Better, terzo lavoro dei marchigiani Gentlemens, spiccano le atmosfere alla Rolling Stones e le chitarre frenetiche dei primi Cramps.
Si parte subito carichissimi con il suono ruvido e sporco di Baby Fun, un brano arrivato nel futuro dagli anni '60. Introdotta da una chitarra alla "Louie Louie", Tonight sembra uscita direttamente dal repertorio dei Kinks. E' invece tinta di venature rockabilly Cry Lover, seguita dal blues malato di Pet Boy.
Se Wake Up ricorda una fusione fra The Stooges e 13th Floor Elevators, Trouble è un classico rock'n'roll che accompagna alle atmosfere più british di I Don't Wanna Live In This Town.
Questo lavoro prosegue che è un piacere, variando sonorità con Ladies And Gentlemens.
Le chitarre tornano ad aumentare l'andatura in She Drove My Mind Insane And Cold, uno dei miei brani preferiti.
Si chiude con i ritmi tirati di Don't Take Me Down, di Last (altra gemma di questo album) e di Gentlemens.
Un ottimo lavoro che non segue le mode del momento e che si rivela molto efficace. Da ascoltare ripetutamente.
Gli ultimi articoli di Fabio Busi