Fabrizio Cammarata & Paolo Fuschi
Skint and Golden
(800A Records)
soul, blues, funk
______________
[youtube id="wa8bVt-4_Bg" width="620″ height="360″]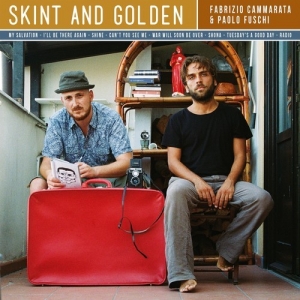 Con la benedizione virtuale di un Paolo Nutini (My salvation e I'll be there again) che sembra aggirarsi come un ectoplasma tra le rime e i suoni di questo Slint and Golden, firmato a quattro mani dal cantautore siciliano Fabrizio Cammarata e il chitarrista Paolo Fuschi, tutto assume un aura ancor più leggiadra, disco di soul, blues, funk, spiritualità black e classe da vendere, praticamente tutto quello che si cerca da un prodotto sonoro che faccia star bene dentro e fuori e senza mai muovere un passo che sia un passo.
Sì, non c'è ombra, queste sensazioni montano fascino soprattutto per la voce di Cammarata, che è una vera timbrica soul, dal punto di vista tecnico e soprattutto per quanto riguarda la tempra sensibile o, se si preferisce, il feeling che trasmette insieme alla chitarra gioiale di Fuschi.
Un disco e una tracklist che emoziona subito per la capacità di trovare la chiave giusta, i colori ideali per affrontare la canzone più semplice e nobilitarla a cose alte, irraggiungibili, estatiche, e questo ascolto testimonia dal vero che è come toccare un pezzo di paradiso, una percentuale di cielo prèt-a-porter.
Dieci tracce per la fortuna di palinsesti radiofonici e amori abbracciati alle soglie di notti sconfinate, tracce dal sangue caldo e delicato, passione e brividi, pizzicori Motown (Can't you see me, War will soon be over, Shona), tremori buckleyani Tuesday's a good day e lo stompin guascone di Shine sono – tra le altre – i gioielli "di famiglia" che Cammerata e Fuschi mettono a brillare per ammaliare e stordire di bello chi ascolta questo disco, questo registrato dal cuore nero come la pece e la qualità immaginifica dai mille colori possibili.
Occhio, magnificenza in transito!
Gli ultimi articoli di Max Sannella