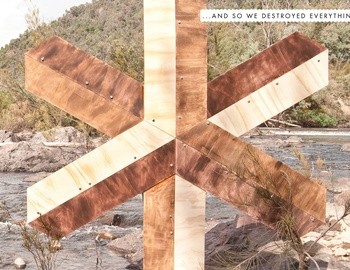 Sleepmakeswaves
…And So We Destroyed Everything
(Cd, Monotreme Records)
post-rock
________________
Sono poche le band australiane degne di nota nel panorama musicale: ricordiamo tra i più importanti gli AC/DC, The Church, Lisa Gerrard, Pendulum e soprattutto Nick Cave & The Bad Seeds. La locale scena post-rock è ancora meno fertile, per lo più carente di band che si distinguono dalle altre. Gli Sleepmakeswaves non fanno eccezione. Sono abili riciclatori di suoni, ma il loro tocco si vede molto poco in questo …And So We Destroyed Everything.
Il disco (già uscito nel 2011 in Australia) è stato distribuito quest'anno dalla loro nuova etichetta anche in UK, Nord America ed Europa come doppio album insieme ad un altro contenente i remix dei brani.
Gli australiani partono alla grande con la lunga traccia d'apertura To You They Are Birds, To Me They Are Voices In The Forest, dove alle solite fragorose esplosioni strumentali (memori del post-rock marziale degli Explosions In The Sky) si alternano brevi intermezzi ambientali sempre diversi. La seguente In Limbs And Joints è invece inconsistente per tutta la durata, fatta eccezione per l'ultimo minuto.
Gli Sleepmakeswaves si risollevano con Our Time Is Short But Your Watch Is Slow: il sottofondo dreamy con tanto di piano e vibrafono riesce ad amalgamarsi senza problemi con la base elettronica che non risulta invadente.
Se (Hello) Cloud Mountain (con i suoi brusii elettronici) potrebbe essere tranquillamente il lato B dell'ultima traccia descritta, Now We Rise And We Are Everywhere sposta il baricentro sul lato naturistico-evocativo: il suono leggermente ovattato sembra provenire da un fondale marino. E' grazie alla spinta delle chitarre che il brano lentamente risale a galla.
A Gaze Blank And Pitiless As The Sun sfrutta le classiche geometrie dei Mogway, variando di poco i colpi sonori. Al contrario riesce bene il contrasto tra la melodia calda della chitarra acustica e la fredda base drum 'n' bass in We Like You When You're Awkward.
Note lente di piano introducono l'ultimo pezzo (omonimo) dell'album. Questo inizio Sigur Ros-iano lascia il passo alle classiche esplosioni chitarristiche, che si fanno sempre più distorte. I vocalizzi accompagnano solo una piccola parte dei 12 minuti. Il brano va via via spegnendosi, riassumendo poco alla volta tutte le soluzioni mostrate in questo disco.
Vivendo di alti e bassi, di soluzioni e schemi spesso riciclati con poca personalità, …And So We Destroyed Everything aggiunge poco e niente al post-rock.
Gli ultimi articoli di Alessio Morrone
Sleepmakeswaves: … And So We Destroyed Everything
recensito da

Alessio Morrone
il 14 settembre 2013
votato

2.0

su

5