Extrema
The Seed Of Foolishness
(CD, Fuel Records IT, Scarlet Records)
thrash metal, groove metal
__________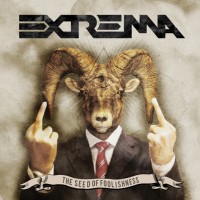 Gli Extrema sono il metal italiano. Non i soli, non gli unici, ma importanti quanto i pilastri per un palazzo. 26 anni d'onorata carriera sono lì per provarlo.
The Seed Of Foolishness è un album di quelli che piacciono alla sottoscritta: compatto e pieno d'idee. In 10 tracce e poco meno di 50' la band riesce a dire tutto, molto. Senza sbavature o spazi vuoti.
I temi trattati, come si può evincere già dalla copertina dell'album, sono quelli attuali delle false profezie apocalittiche e dei veri complotti contro le sovranità nazionali.
Gl è arrabbiato, hardcore, non solo nella scrittura: il suo growling diventa nero in tracce come Sick And Tired. La chitarra di Tommy Massara è sempre acuta, sia nei tappeti ritmici che negli assoli, rendendo l'album sfaccettato e sfavillante.
I frequenti cambi sono una costante dell'album. Ma anche gli stacchi più decisi, come il finale acustico di Ending Prophecies, non risultano mai gratuiti o fuori luogo.
L'album, che uscirà in Italia ed Europa il 7 maggio e il 23 in USA, avrà un singolo in heavy rotation, da cui sarà estratto un video. Stiamo parlando di Pyre Of Fire.
Oltre a questo, non mancano i pezzi orecchiabili – senza uscire dal genere, ben inteso -. Tra tutti spicca sicuramente Bones, con un ritornello che vi rimarrà in testa.
L'album è teso e non concede pause, se non nell'ultima A Moment Of Truth, una ballata rock.
Mi sono ripromessa di non adottare un tono polemico; ma se si vuole dare un giudizio finale non si può non fare riflessioni, troppo frequenti quando si parla di metal italiano. Se The Seed Of Foolishness fosse stato un album dei Metallica, o chi per loro, sarebbe stato definito un cult. Auguro ai nostri eroi la medesima sorte.
Gli ultimi articoli di Dafne Perticarini