A tre anni di distanza dall'ultimo concerto sold out in Italia, i Mumford & Sons annunciano il loro ritorno nel nostro Paese per un unico concerto che si appresta a diventare uno tra i più importanti eventi musicali dell'anno.
L'occasione è l'uscita del quarto e nuovo album in studio della band, Delta, in uscita il 16 novembre 2018 via Gentlemen of the Road / Island Records, è anticipato dal frenetico folk-rock di Guiding Light.
Guarda il video:
L'unico appuntamento italiano col Delta Tour dei Mumford & Sons è fissato per
lunedì 29 aprile, Milano, Mediolanum Forum, Via Giuseppe di Vittorio, 6 Assago.
I biglietti hanno un costo che va dai 40 ai 55 euro (diritti di prevendita esclusi) e saranno in vendita dal 12 ottobre.
Sarà possibile acquistare un massimo di 4 biglietti per persona e saranno nominativi. Il nome intestatario dell'ordine, fornito in fase di registrazione sul sito, verrà riportato sui biglietti acquistati. L'intestatario dell'ordine dovrà presentarsi ai cancelli con il biglietto e il proprio documento d'identità valido (no fotocopie). In caso di acquisto multiplo tutti i biglietti riporteranno il nominativo dell'intestatario dell'ordine, il quale dovrà presentarsi ai cancelli insieme alle altre persone destinatarie dei biglietti riportanti il suo nome ed essere uno dei partecipanti all'evento.
Mumford & Sons:  www.mumfordandsons.com
[amazon_link asins='B07HGKV6TV,B00S5IB24M,B01N2HLYKU' template='ProductGrid' store='rock02-21′ marketplace='IT' link_id=' fc6f1bbc-c857-11e8-a298-d1ded0507ca6′]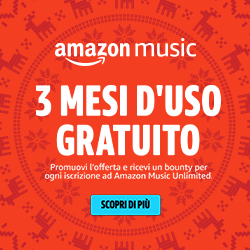 Gli ultimi articoli di pressvoice