Jherek Bischoff
Composed
(Cd, Leaf)
art-pop, avant-pop, avanguardia
________________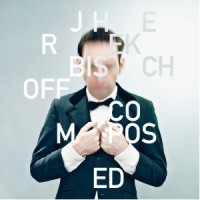 Jherek Bischoff è un polistrumentista di Seattle che vanta fra le sue collaborazioni quelle con Amanda Palmer, Xiu Xiu, Parenthetical Girls e The Dead Science.
In questo Composed, lavoro di avant-pop orchestrale, presenta una serie di collaborazioni molto importanti. Dopo una breve Introduction, troviamo subito Eyes con l'importantissimo apporto di David Byrne. Arriva quindi il supporto di Caetano Veloso e Greg Saunier, ospiti in The Secret Of The Machines.
In questo lavoro – che potrei quasi definire fuori dal tempo – si continua a viaggiare fra atmosfere retrò anche con la seguente The Nest, dove troviamo Bischoff affiancato alla songwriter Mirah Zeitlyn ed alla violinista Paris Hurley, in un brano dalla dolcezza incredibile. Si prosegue con Blossom ed il chitarrista Nels Cline e con la più cupa Your Ghost con ospite Craig Wedren.
In Counting si resta ammaliati dalla favolosa Carla Bozulich, già leader degli Evangelista. Young & Lovely, con ospiti Zac Pennington e Soko, ci trasporta in un contesto più influenzato dall'indie ma comunque sempre di ambito art-pop e ci conduce al gran finale con Insomnia, Death & The Sea, suite quasi sinfonica di notevole spessore.
Questo Composed è un lavoro di enorme valore che consiglio a chi cerca qualcosa di nuovo, qualcosa di valido, qualcosa di totalmente diverso da ciò che troppo spesso i network propongono.
Gli ultimi articoli di Fabio Busi