Nocturnal Depression
The Cult Of Negation
(CD, Avantgarde Music)
black metal, doom metal
________________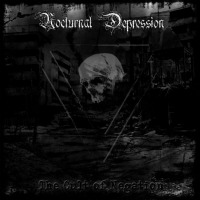 I Nocturnal Depression sono una band francese composta da soli due elementi (Herr Suizid per la parte musicale e  Lord Lokhraed per quella vocale) che nasce nel 2004 e che, già dal nome, non lascia nulla all'immaginazione.
The Cult Of Negation è un album di sei tracce che si potrebbe definire black metal ma che io preferirei inserire nella nicchia del depressive black metal, genere decisamente più appropriato per i nostri amici d'oltralpe. Ogni traccia, infatti, usa come proprio muro portante delle sonorità lente e pesanti. E' tutto un susseguirsi calmo e ghiacciato di desolata agonia in cui lo scream viene adoperato come una lama affilata.
Tutto questo sarebbe bello ed intrigante se riuscisse a diventare empatico e coinvolgente ed invece succede solo che ogni singolo pezzo non fa altro che sprofondare in un abisso fatto di noiosa monotonia, nonostante sia chiara la volontà nel cercare di accelerare un po' il ritmo. Un peccato poiché si arriva a percepire quell'intuizione, neanche troppo malvagia, da cui deve essere partita la costruzione di questo lavoro. Intuizione che però, purtroppo, rimane tale e non sopravvive.
Ed anche la durata dei brani non aiuta, infatti i sei minuti di They, i nove di Home Asylum ed i quasi dodici della title-track The Cult Of Negation sembrano esagerati, per quanto io mi renda conto che parlare di morte, rassegnazione e disgregazione dell'essere richieda del tempo.
Purtroppo si tratta di un lavoro che, in definitiva, non riesce a scorrere ed il cui ascolto rimane davvero difficile. Consigliato, invece, a tutti quelli che vogliano avere a che fare con profonde depressioni. Notturne o diurne che siano.
[iframe: src="http://rcm-it.amazon.it/e/cm?t=rock02-21&o=29&p=8&l=as1&asins=B003V8DV9K&fc1=000000&IS2=1&lt1=_blank&m=amazon&lc1=0000FF&bc1=000000&bg1=FFFFFF&f=ifr" style="width:120px;height:240px;" scrolling="no" marginwidth="0″ marginheight="0″ frameborder="0″]
Gli ultimi articoli di Ileana